Download Free Fire if you love shooter games. This game offers phenomenal game maps characterized by realistic gaming environment for optimal fun.
| Author: | GARENA INTERNATIONAL I PRIVATE LIMITED |
| --- | --- |
| Version: | 1.48.1 |
| Category: | Games |
| Size: | 42M |
| AppId: | com.dts.freefireth |
| Updated: | 29/05/2020 |
Your primary role will be to eliminate your rivals and remain the last man standing. As such, you must arm yourself with complex weapons and employ unique shooting skills.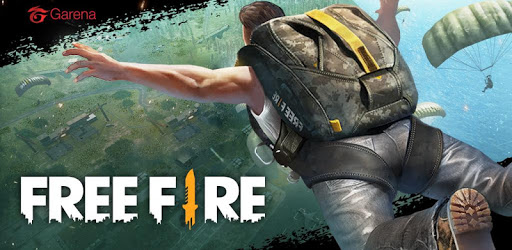 Everything You Should Know About Free Fire
This is the ideal game for all the gamers who love adrenaline-filled gameplays. It challenges you to fight 49 rivals in blood-curdling shootouts that last at most 10 minutes.
When you join the game, you'll be placed on a remote island with your rivals. Interestingly, you'll have no way to escape the arena. As such, you'll be required to invoke all your expertise to eliminate your rivals and win the game.
Free Fire boasts of topnotch graphics that help in highlighting the adventurous nature of your gaming environment. It'll emphasize the finer details of all the valleys, buildings, trees, and other exciting features.
Advertisement
A Highly Immersive Gameplay
Free Fire has simple yet enjoyable gameplay that guarantees memorable gaming experiences. You'll be required to engage in fierce fighting escapades. If you win the games, you'll earn unique awards that you can use to unlock better gaming features.
Immediately after joining the game, you must select your character. Ensure that you evaluate all the skills and abilities in each of the available characters to make an informed decision. Also, you'll be empowered to customize them to help you achieve your desired features, thus increasing your chances of winning the game.
Some of the skills that you'll require to succeed in this game include agility, shooting precision, and accurate decision making. If you acquire a character that possesses these traits, then you can be sure that you'll exterminate your enemy fast.
The more adversaries you shoot, the more points you'll get. As such, you should start your mission immediately you begin a game.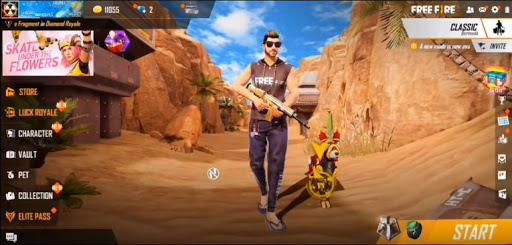 The Start of Free Fire's Gameplay
When you have all the characters set, you'll now be ready to enter the arena and battle it out for the ultimate glory. To facilitate this, all the players will be dropped from an aircraft into their ideal sites in the gaming map.
Every player must take control of their destiny. Once the parachute opens, you must strive to land in an ideal area where you'll quickly garner resources and weapons.
After you've gathered enough resources, you should start exploring the battlefield immediately. Ensure that you go to all the buildings, grasslands, and other possible hideouts. Your target should be to shoot as many adversaries as you can.
While undertaking your mission, you should be careful to avoid ambush by your enemies. You should only make well-calculated steps to avoid drawing unnecessary attention. The gameplay may become complicated if you have many adversaries using sophisticated weapons and vehicles.
As such, you should keep upgrading your armoury to ensure that you remain stronger than your opponents. This way, you can be certain that you'll manoeuvre all the difficulties and emerge the winner.
Advertisement
Shrinking Gameplay
Even more challenging, the gaming area will progressively shrink! The more it shrinks, the closer you'll be to your enemy. Such an occurrence serves to make the gameplay better and enhance the action moments.
However, if you're caught outside of the safe zone, your chances of survival will reduce significantly. As such, you must always ensure that you remain in the safe zone while attacking your rivals fearlessly.
Unique Crash Squad
This game allows you to form squads of at most 4 players. When selecting the players, you should ensure that you only incorporate those with outstanding traits and skills into your team.
Once you constitute your team of 4 players, you'll face an opposing squad in thrilling matches. Always ensure that you win these matches to get unique awards which will be instrumental in advancing your gameplay.
Outstanding Features of Free Fire
Extraordinary Open-World Concept. This game has a unique open-world concept that showcases adventurous scenes that include rivers, hills, building, and trees. As such, you can be confident that you'll enjoy exceptionally calm gaming environment.
Many Resources and Weapons. When you drop into the game map, you'll have the chance to collect as many treasures as you wish. Your success in this escapade will largely depend on your agility.
Enhanced User Interface. Free Fire has simple controls and an incredibly easy-to-navigate user interface. This ensures that you enjoy the gameplay regardless of your level of experience.
 Many Customization Options. This game allows you to modify your character and upgrade your shooting weapons. This allows you to personalize the gameplay while ensuring that you get the most sophisticated fighting tools.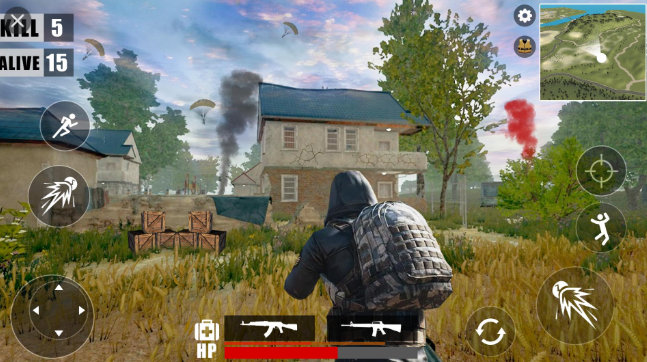 Enjoy Topnotch Graphics and Highly Immersive Sound Systems
Free Fire comes with 3D graphics that help in highlighting the nitty-gritty of the game. You will enjoy the breathtaking sceneries of the island as you undertake your missions.
Additionally, the game has immersive sound systems that'll keep you entertained throughout the gaming session. It guarantees clarity when taking instructions, thus heightening your chances of success.
Advertisement
Where to Download and the Price?
Downloading Free Fire is free of any charge. However, you may require to purchase in-app features that'll help in improving the gameplay.
You can download the game from the following reliable sites:
Windows
iPhone
Android
Conclusion
Do you enjoy fighting games? If yes, then you should consider downloading the latest version of Free Fire. This game challenges you to eliminate 49 rivals in fierce shootout sessions. It is set in a breathtaking island which gives a perfect mix of action and adventure.
Also, Free Fire boasts of simple controls and a friendly user interface that's adequate for all gamers. Invite your friends and destroy your adversaries to win unique gifts.